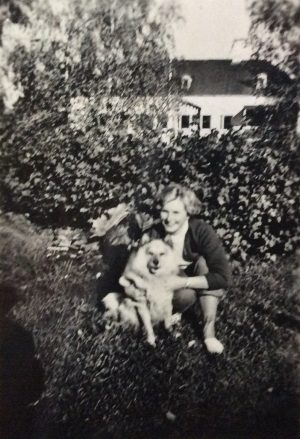 – The Finnish Spitz Ari and I are in the picture to the right. Ari was born in the famous kennel Vuolasvirta, owned by Finnish Spitz specialist Lauri Vuolasvirta. The picture is taken in Viiala (today a town called Akaa) in south-western Finland, where the kennel was located. You can see Vuolasvirta's house in the back, the kennel building was in his garden, Marjatta Visasalo, 78, describes.
– This beautiful dog was given as a free gift for the signatory, as an act of neighbourliness. Another reason was the dog's nose; it was not perfectly black, which is required from show dogs.
The dog Ari was a typical Finnish Spitz. He was to his coat and his exterior more beautiful than many of the so called show dogs. His coat was strong and thick, and he could bark at anything for hours. We did not go hunting with him, but he did join us in the forest when we went cross-country skiing for fun in the winter.
– The bond between the dog and the owner grew very strong because I had no siblings to play with. I often lured the dog upstairs into my bedroom against my parents' will, although at that time the dog was supposed to live in his own house outside. I got to keep Ari for 5 years. One day he got loose and was hit by a car. I can still not understand how it could have happened – he always came back home, even if he had gone away for a while. Ari used to walk us when we went somewhere, and then he always returned home to guard the house.
– The Finnish Spitz is a lovely breed. There is no other dog just like it, Visasalo sighs.
Lea Nordberg, the daughter of Marjatta Visasalo, came also in contact with dogs with the Finnish Spitz of her grandparents' neighbour Lauri Vuolasvirta.
– My god mother had a Finnish Spitz called Turre. I got Turre's puppy Tessa as a gift for my 10th birthday. I might have gone little too often to their garden to play with the kind and very child friendly Turre. I got to choose my own puppy from the litter. When I crouched down with the puppies, Tessa came running right into my lap. The choice was made, Nordberg reminisces.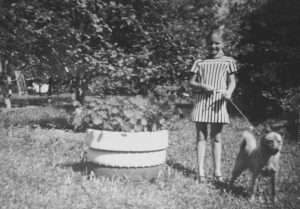 – My Tessa spent her whole life at my grandparent's house, she lived there as "my dog". Tessa was beautiful, very wise and eager to learn new things. The funniest memory I have of her is when she barked up at the full moon during crispy winter nights without getting tired, Nordberg tells.
The main picture: Turre and Lea Nordberg in 1970. Picture © Lea Nordberg