Finland's national dog, the Finnish Spitz, is an established part of the Finnish folklore. For decades, the red coated dog has followed its master in illustrations and stories in books, post cards, as well as in the cinemas. Artists and sculptors have also been inspired to illustrate the Finnish Spitz as one of the symbols of Finnishness.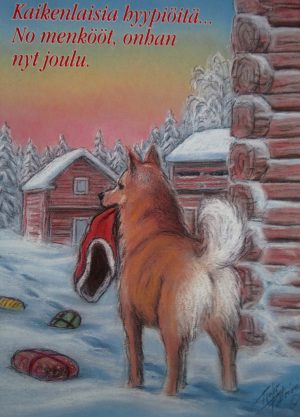 A dog barking under a spruce is portrayed even at the 19th century Finnish folk poetry. One part of the Kanteletar poem collection collected by Elias Lönnrot describes as follows (translated from Finnish to English by Angela Cavill):
Now make my dog call,
make my searcher bark,
inside the blue wilderness,
in the golden dome of the wilderness,
do not make him bark pine twigs,
do not make him call spruce branches,
but make him bark at something under fir twigs,
something sitting on a spruce twig!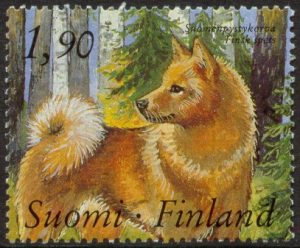 The importance of the Finnish Spitz as a part of Finland's culture can also be seen in several illustrations. Many Finns remember the Spitz from the traditional ABC book, as well as from the illustrations in Finland's national epic Kalevala and the novel Seven Brothers, which is written by Finland's national author Aleksis Kivi. Many post cards illustrate the Finnish Spitz as a part of its family's daily life as well.
To celebrate the Finnish Kennel Club's 100th anniversary, a stamp sheet was published in 1989. The sheet contained four different stamps, each one illustrating a Finnish dog breed, one of which was the Finnish Spitz.
The Finnish Spitz has even had the lead role in several Finnish works of art. The significance of the Finnish Spitz as a literary figure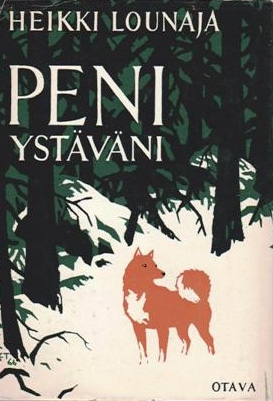 is brought up for instance in the novels Musti written by Eino Leino, Peni written by Heikki Lounaja and Koirankynnen leikkaaja written by Veikko Huovinen. Markku Pölönen directed a movie based on Koirankynnen leikkaaja, Dog Nail Clipper, where the lead role, the Finnish Spitz Sakke, is played by Korpisaran Tuuli. Even Veikko Huovinen was so impressed by Tuuli's performance, that he sent the dog a fan letter.
The Finnish Spitz in paintings and sculptures
Several artists portraying the Finnish nature have immortalised the Finnish Spitz in its natural environment, in other words in the Finnish forest. It tells something about the strong influence of the Finnish Spitz that it has been portrayed by Finnish artists for decades, all the way from 19th century artist Akseli Gallen-Kallela to 1960's naïve artist Viljo "Jalo-Valmari" Mäkinen.
Noteworthy sculptures illustrating the Finnish Spitz are Peni (1989) by Pekka Ketonen and Sokerityttö (1956) by Viljo Savikurki. The latter portrays a girl and a dog, and is displayed at Mannerheimintie in central Helsinki. Back in the day, the headquarters of a sugar factory, Suomen Sokeri Oy, was located at the very spot – Sokerityttö stands for Sugar girl. The Finnish Kennel Club holds a statuette that might have been Savikurki's sketch for the real sized statue.
Main image © Terho Peltoniemi