Main picture: Gitta Ringwall with Smooth and Wire Fox Terrier puppies, around the 50's
In 1932 Gitta Ringwall's mother Ruth Löfgren replaced her old car. The deal included four wire fox terrier puppies and their mother, and one of these puppies, named "Lady Pearl", stayed with the Ringwall family for future breeding.
Out of one of Lady Pearl's litters, Gitta kept the first-born puppy, named Whonny Black Spot. This otherwise light-colored dog had one distinctive black spot on its back. Later Ringwall named her renowned kennel Black Spot after this dog.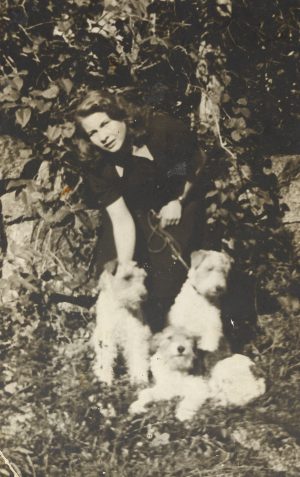 The first Black Spot litter was born on September 2nd,1946. The following year Ringwall began grooming and showing her dogs in post-war Finland. Her dogs did not perform to the best of their potential at their first show in Helsingin Messuhalli, because they were not used to this new environment after previously only spending time at Ringwall's yard. Practice paid off, however, and in 1948 Black Spot Winnipeg won the first of several hundreds of CACIBs for the kennel.
"I remember someone asking: 'Have you seen Winnipeg's crate? (…) Well, go see!' And there was the CACIB on his crate. It was fantastic. (…) My dogs have won over 400 CACIBs but that first one is the most precious to me." 

Kaija Unhola's book: Koiraelämää – harrastamisen historiaa (2009, page 123).
Through adversities to champions
In the beginning of Gitta Ringwall's dog show career an earthdog trial was necessary in order for a dog to receive a CACIB. These trials often took place in the countryside, making it difficult for Ringwall to attend them since she did not own a car. She even purchased a fox of her own to practice for these trials at home, but the fox, called Ready, got along so well with the other pets of the household that it became a pet too.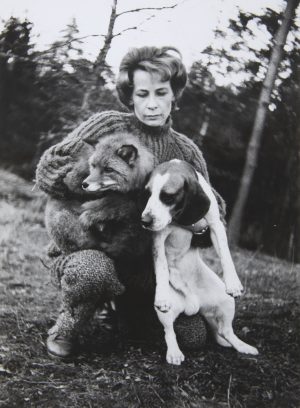 Despite the demand of the trial result, Black Spot kennel produced over 100 champions while the kennel was operational. Ringwall's dogs won the Vuoden Voittaja title every year from 1955 to 1964 and again in 1966, 1967 and 1971. The kennel garnered well over 400 CACIB titles. Amongst these victorious dogs were Ringwall's breeding and dogs she had imported from countries such as the UK and Sweden. Some of these dogs were among the first representatives of their breeds in Finland. Ringwall was a central figure in introducing such breeds as beagles, welsh terriers and norwich terriers to Finland. In 1947 Ringwall was among the founding members of the Finnish Terrier Club (now The Finnish Terrier Organisation). She was also involved in the founding of The Finnish Beagle Club, Norwich and Norfolk Terrier Clubs and The Welsh Terrier Club of Finland.
In the course of her career as a breeder, Ringwall bred hundreds of litters from several different breeds. These breeds included welsh terriers, cocker spaniels, poodles, dalmatians, boxers and dachshunds. Her love for wire fox terriers in particular had its roots in her childhood, and she became involved with norwich terriers out of a desire to try a smaller and more manageable breed.
Health above all
Gitta Ringwall only chose dogs with healthy stock for breeding in order to minimize any structural problems in future generations. She kept one or more puppies to herself from each litter and bred her imported dogs with different bitches in order to see which lines worked the best when combined. Ringwall did not hesitate to mix even close family lines from time to time in order to bring out her dogs' true breeding abilities. Black Spot dogs often lived long lives, and Ringwall herself attributed this in part to a diet made of porridge, meat and vegetables.
Ringwall had a principle of selling her puppies at a reasonable price – dogs were a hobby, after all.
Ringwall's breeding of dogs took place while she also worked full-time. Her sister Metha Johansson helped her take care of the dogs. In 1955 after the death of their mother, the sisters purchased a house in Kalliorinne, Espoo, and an empty hen house on the property was turned into a house for the dogs. In their "house" the dogs had chairs, beds and windows. They also had large, fenced yard where they could run. The sisters got up every morning at 5 to feed the dogs before leaving for work and repeated this process upon returning in the afternoon. Similarly to Gitta, Metha was also a dog lover, and often took care of her sister's dogs while she was traveling for judging or other dog business.
Gitta Ringwall also received recognition for her work as a breeder: in 1979, she was among the first recipients of the Vuolasvirta award, which is awarded to exceptionally commendable breeders. Her work was also awarded with a Cross of Merit from the Order of the Lion of Finland in 1980, and the following year she received the second breeder plaque given by The Finnish Terrier Club, which is awarded for long-term, commendable breeding work.
"Be demanding in your breeding. You should always use dogs that are healthy in both personality and structure, because remember: character and structure flaws will be passed on sooner or later."