Main picture: Gitta Ringwall judging in Sweden, 1960's.
Gitta Ringwall was given rights to judge in 1954. At first, she graduated to judge her own breed wire fox terriers, and eventually other terriers and other breeds, ending up as an all-rounder, a judge of all breeds. She was an active judge in Finland, other Nordic countries and all over Europe, and traveled to judge all the way in Australia and South Africa.
Judging on dogs' terms
When judging, Gitta Ringwall always paid special attention to a healthy structure. She allowed the dogs plenty of time to move around the ring in order to bring out their structural properties.
"Healthy dogs become better and better when they move, but those with poor structures will tire quickly. Anatomy is best judged when a dog is allowed to move. Overall impression is of course the most important thing, but no dog with a poor structure can be good overall."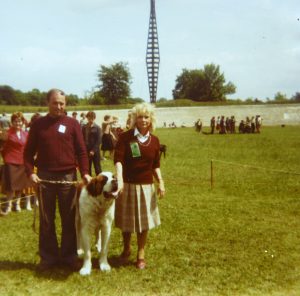 Ringwall also thought it important that a dog was presented properly: the leash should be kept loose enough so the dog would move freely, and its proper posture would emerge. As a judge, Ringwall was strict but fair. She recognized a judge's responsibility and kept her focus on the dogs presented. At times it took courage to place a beginner higher than an established competitor, if the beginner was the clearer winner. Ringwall was also known for her gentle way of handling dogs, and she was always friendly and kind to their handlers as well.
"A judge should be kind and encouraging to dogs as well as their handlers. Dog people have different personalities like everyone else, and some handle losing better than others."
A popular judge
Ringwall was a well-liked judge who spent nearly every weekend between May and September at dog shows. While she was traveling, her dogs were looked after by so called kennel girls, many of whom went on to become established and successful breeders themselves.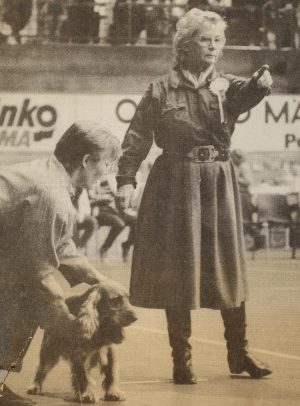 Dog shows changed significantly over Ringwall's 50-year career as a judge. The rules were changed many times and judging categories multiplied and became more diverse. Until the 1970's a countryside dog show would have 200 dogs and The Finnish Kennel Club's main show in Messuhalli would have 500-600 dogs. The number of participants has increased exponentially since then: at the beginning of Ringwall's judging career, a judge could have 30 to 40 dogs to judge, and nowadays over 80 dogs per judge is not uncommon. Ringwall thought that the increased popularity of dog shows lessened a certain sense of familiarity among participants, and increased rivalries among breeders. She was also concerned that dog shows would become overly commercialized, which could, at worst, lead to puppy mills and an increase in unwanted and exaggerated structural features.